Adams Golf, an industry leader that specializes in bringing hybrid-iron technology to the full range of clubs, follows the motto of being "driven by inspiration." That inspiration is behind the Speedline series, a set of clubs designed on the hybrid premise with the ability to function widely around the course. Speedline clubs featured ease of use, high ball speed, low spin, and greater distance.
Adams Golf Speedline F11 Fairway Wood Specs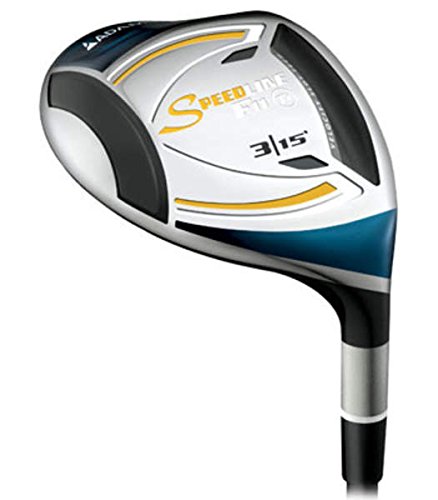 Adams Golf has taken the Speedline series to the next level with the recently introduced Adams Golf Speedline F11 Fairway Wood. Velocity Slot Technology is the biggest new improvement, and that technology has resulted in 21 percent more forgiveness, higher ball speeds, and up to 12 additional yards of distance.
Tour pros like Ryan Moore and Tom Watson use this fairway wood, and reviews from non-tour players have been very positive.
The Adams Golf Speedline F11 Fairway Wood is designed to offer hybrid- and driver-inspired technology all in a single, easy-to-use, and versatile club. Such an expansive goal requires significant technological breakthroughs.
Adams Golf has introduced the Velocity Slot Technology, which consists of a visible channel on the crown and sole that serve to keep airflow with the club longer. The result of Velocity Slot Technology is impressive: a spring-like effect that offers 21 percent greater forgiveness, higher ball speeds, and as much as 12 additional yards.
The key to the club's performance is in its effect on the club's coefficient of restitution, or COR, or bounciness. As an Adam Golf's staff member puts it, "Historically, fairway woods had relatively low COR values due to the fact that their head and face sizes had to remain smaller for playability purposes."
Velocity Slot Technology has created an expanded COR without having to increase the size of the clubhead. In all, the wood is Adam Golf's longest and most forgiving fairway wood to date; it offers the distance of a driver, the versatility of a hybrid, and the consistency of a fairway wood.
Adams Golf Speedline F11 Fairway Wood Review
Adams Golf has really introduced something new with the Adams Golf Speedline F11 Fairway Wood. While many companies introduce new terms for their technology, much of the basics stay the same. Not so with the Speedline F11; the Velocity Slot Technology is very different.
While the look of the slot on the club takes some getting used to visually, the club's performance is difficult to argue with. Players found that it gave them the benefits of a hybrid in a fairway wood, so the F11 actually had more versatility than either of those types of clubs.