The Bushnell Pro 1M is the most recent addition to the brand's roster of top laser rangefinders on tour. It is engineered with further improvements to its predecessor, the Bushnell Pro 1M 1600. One of the most advanced features added to the Pro 1M is its Vivid Display Technology, which makes it the ultimate laser rangefinder for serious golfers and professional golf tours.
It also delivers exceptional ranging capacity from 5 yards up to 1 mile, while presenting pin distance precision with its +/- 1 accuracy. The Pro 1M laser rangefinder works hard on the fairway while looking good on your hands with its horizontally-oriented, ergonomic design. It is also equipped with other useful features such as the 7x magnification capacity, Powerboost technology, Pinseeker mode, and more.
Bushnell Pro 1M: A More Detailed Look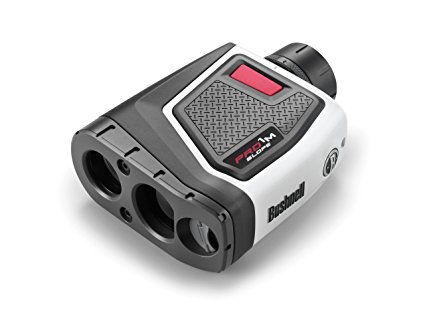 5 Tard to 1 Mile Ranging Capacity
Reaching an incredible 1 mile capacity, the Bushnell Pro 1M is the most powerful laser rangefinder that ever hit the market. It is also made with a plus 1 or minus 1 accuracy which delivers the precise distance to the pin, thus eliminating the guesswork and speeding up game play.
Vivid Display Technology
This special feature offers higher resolution, better light transmission, and clearer distance readouts. It also presents unprecedented accuracy as it dramatically enhances the display to allow quick and positive target detection in any lighting condition.
7x Magnification Capability
The 7x magnification capacity of the Bushnell Pro 1M is the highest among laser rangefinders in the market. This offers a significant difference when aligning targets and locating objects way out in the distance.
Product Weight and Dimensions
Measuring 1.7″ x 5.1″ x 3.7″, the Pro 1M is still bigger than most vertically-held rangefinders in the market but still has the aesthetic appeal to with the latest models. It weighs a solid 12 ounces, so you know that it won't easily break when you accidentally drop it.
Additional Features
PowerBoost Technology – new and innovative technology that lets you get 35 percent more flag acquisitions.
Pinseeker Mode – this will let you lock on to targets and pick up flags even with other objects in areas you scan.
Premium Lens Coating with RainGuard Technology – provide superb optical quality and added protection against wet conditions.
3V Battery with PosiThread Battery Door – the 3V battery pack comes with an extended battery life and is made lightweight to keep the device stable when using. It's locked in place with a PosiThread battery door that screws shut for extra security.
Bushnell Pro 1M review
Slope Edition Technology
The patented Slope technology works by calculating and adjusting the yardage based on the degree of the slope. This means that you will get compensated pin distances whether it's downhill or uphill, thus letting you make the proper club selection for better shots.
The 100 percent water proof construction of the Bushnell Pro 1M keeps it fully functional not just on clear and sunny skies, but on rainy days too. The unit is a horizontally-held design, which solves the issues with vertical laser rangefinders that involve unsteady, one-handed operation.
To help get more control over the rangefinder, it uses a tacky rubber grip. The outer shell is layered with tacky and comfy rubber material so fingers interact snugly with the rangefinder for a non-slip, ergonomic use. The Bushnell Pro 1M comes with a premium carrying case and is covered with a 2 year limited warranty.
Bushnell Pro 1M: Final Thoughts
Distance, accuracy and ease of use are all prominent features of this rangefinder. The slope technology used also helps to bring you back the perfect distances, no matter what the elevation is for your next shot. Overall, the Bushnell Pro 1M is one of the premium range finders and really delivers the information you want quickly and accurately.