One of the most award-winning names in the golf industry, Callaway Golf offers golf gear for any level of players, from casual players to tour players. With a mission to give golfers the tools needed to enjoy the game and experience success on the course, Callaway Golf has developed exclusive technology to enhance the performance, feel, and sound of their clubs.
Callaway FT-iZ Hybrid Specs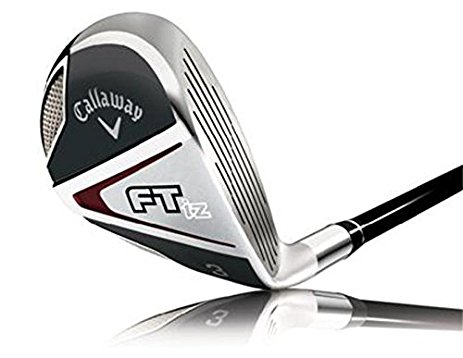 Named in part for its Fusion Technology, the Callaway FT iZ Hybrid stood out among 400 clubs to be awarded a gold medal in Golf Digest's 2010 Hot List. Fusion Technology outfits the clubhead with a strong, stainless steel body and sole with specialized weighting for a higher moment of inertia and lower center of gravity.
With a large clubhead, offset hosel, and exclusive VFT technology, this hybrid offers plenty of stability and forgiveness. Reviews have praised the hybrid's ability to get fast ball speeds, long drives, and straight shots, all with less of a tendency towards twisting than other hybrids.
Hybrid clubs have increased in popularity among golfers in recent years, and for good reason: hybrids enable players to achieve distances and to get out of tight spots better than traditional irons. As one golfer puts it, "If any club should be ruled illegal, it should be the hybrid. It makes the game almost too easy."
Callaway FT-iZ Hybrid Review
Callaway Golf has produced another winner of a club with the Callaway FT-iZ Hybrid. Fusion Technology creates the clubhead out of stainless steel with Metal Injection Molded and high-density weights for the most optimal weight distribution.
The result is a club with a higher moment of inertia and lower center of gravity that achieves high, long drives. The clubhead is large with a huge sweetspot and plenty of stability.
Callaway's exclusive VFT technology maximized the face of the club; the face is thicker in the middle and thinner at the edges to get more power behind the ball. These hybrids have an offset hosel, graphite shafts, and a 40.25" length.
Besides being a gold medal winner in Golf Digest's 2010 Hot List, the Callaway FT-iZ Hybrid has received more praise from testers and players alike. Known for its ability to get a shot with "high, straight, repeatable flight with soft landing," this hybrid has the ability to excel even in the roughest parts of the course.
The size of the clubhead and the offset shaft give players stability, forgiveness, and the ability to swing without fear of twisting