Originally started in 1979 to design replicas of classic golf clubs from the 1940s and 1950s, California-based Cleveland Golf makes a wide variety of golf clubs today. Now, the company focuses on producing classically styled golf clubs with modern technology.
Cleveland Golf has entered the hybrid market since hybrid clubs have been increasingly popular with both professional and amateur golfers. The Cleveland HiBORE Bloom Hybrid is primarily designed to create optimal launch conditions.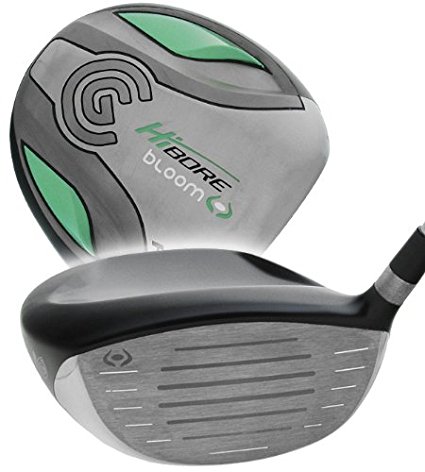 Its distance driven geometry ensures a lower center of gravity, while the energy transfer core more efficiently transfer energy to the ball for faster ball speeds. The hybrid features a large head size with a huge sweetspot for maximized ball speed, even on mishits.
It is no wonder that Cleveland golf, known for its classic designs that use modern technology, would enter the hybrid market. The popularity of hybrids today stems from their greater versatility throughout the course and their overall ability to achiever longer distances. The Cleveland HiBORE Bloom Hybrid brings some of Cleveland Golf's exclusive technology and features to a hybrid that many levels of women golfers can enjoy.
Cleveland HiBORE Bloom Hybrid Review
The central theme of the Cleveland HiBORE Bloom Hybrid is optimal launch conditions. With distance driven geometry, the hybrid places much of the clubhead's weight into the deep center of the head, which creates a low and deep center of gravity.
A C.O.R Hot Spot is carefully placed behind the center of the large face to easily transfer more energy to the ball upon contact. Inside the clubhead is a set of thin titanium spines that allow for a more efficient transfer of energy to the ball.
The Cleveland HiBORE Bloom Hybrid is an update of the previous HiBORE Hybrid; the Bloom edition includes more offset for a squarer face upon impact for greater control and trajectory. The club's graphite shaft is lightweight and stable. One unique feature is the toe graphics, which change colors when exposed to sunlight or UV rays.
With nearly perfect reviews, the Cleveland HiBORE Bloom Hybrid is sure to please any lady golfer, whether she is a high- or low-handicapper. Women found it easy to use and a welcome replacement to fairway woods or traditional irons. Overall, the club was praised for its ability to achieve hits that are "wonderfully long and straight." Most players used this club for longer fairway shots and shots out of the rough.