Finding great golf clubs is easy, but finding affordable ones that fit the bill is not.  That's why this review aims to explore something different.  With Prosimmon Golf X9 clubs, what can you expect to happen when you're out on the course?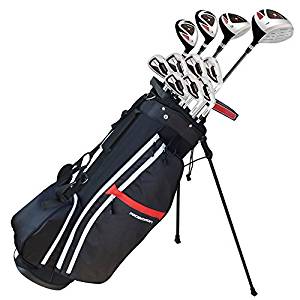 Well the first aim of a good golf set, especially one geared towards nonprofessionals, is making sure it corrects your mistakes.  This is the first thing that Prosimmon is designed to help with.  Here the sweet spots are bigger, and the clubs are more forgiving.  This way you're not severely punished on the scoreboard during your quest to develop the perfect golf swing.
But of course, you want technical specs right?  What are you actually getting when you buy this golf set? Well here's a quick break down:
Titanium Matrix driver with an oversized 460cc club head. This way it's built to better pack the power when you're trying to hit the ball 300 yards.
3 and 4 hybrids, to replace the overly difficult long irons. This way you're not struggling to get on the green from a tough long position.
5-9 irons for the appropriate situations. Plus you get a Pitching Wedge as well, for those sticky situations.
Unique putter developed to have no surface glare. But additionally this club face will provide you with a softer more gentle touch, so you can caress the ball into the hole.
Full club bag with all the pockets you need for valuables, towels, extra balls and even refreshments.
Prosimmon Golf X9 Mens GRAPHITE Hybrid Club Set & Bag Review
So honestly, is this set really worth the money? Well there are a few deciding factors.  First off, you have to realize that this is not going to be the quality of a set that Tiger Woods is going to use.  But remember, you're not Tiger Woods yet so you really shouldn't worry about buying the same golf clubs as him.  When you're trying to learn and improve, you need something tailor made for this stage in your game.  Prosimmon gives you a good learning set at an unbeatable cost. These are affordable golf clubs that won't disappoint.