Callaway, arguably the most popular name in golf, has released a new driver that takes the best features of the FT-9 and, as the company puts it, "takes a giant leap forward." Forged Composite material is the most noteworthy difference between the FT-9 and the newer Callaway Women's RAZR Hawk Driver.
California-based Callaway Golf has a long history in the game and is one of the few names in the golf industry that creates clubs for the masses that are also used by the pros.
Callaway Women's RAZR Hawk Driver Details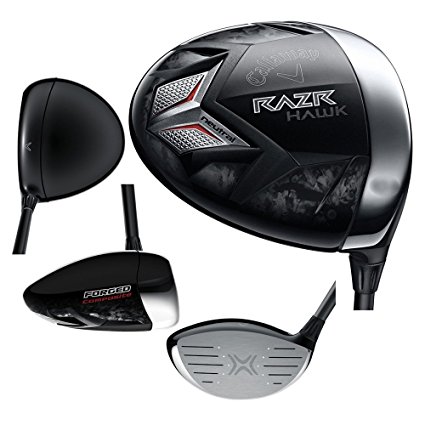 With the Callaway Women's RAZR Hawk Driver, Callaway brings lady golfers the result of a joint effort between the company's award-winning designers and the makers of Lamborghini. The result is the use of Forged Composite to create a driver that that is lighter, stronger and faster club that those on the market.
It is the club's Forged Composite and aerodynamic design that set it apart from other drivers, even other drivers by Callaway. Forged Composite technology is a new material that is strong than titanium with merely a third of the density. Thus, the clubhead's thickness is expertly designed, resulting in a head that is strong and lighter than those before it.
A combination of the new clubhead material and the club's extra-long shaft mean that players can get faster swings, faster ball speeds and greater distance, a combination that the company says means that players will face "no tradeoffs."
The club's name comes from its aerodynamic shape, which has been redesigned for a significant reduction in drag. In fact, the RAZR has 43 percent less drag resistance than the FT-9. Imagine how 43 percent less drag could affect a swing: higher impact speeds and greater distance. Callaway's exclusive Razr Weighting System and Hyberbolic Face Technology also contribute to the driver's performance.
Exclusively for women, the Callaway Women's RAZR Hawk Driver comes in 11.5 degree and 13.5 degree lofts, both with a length of 44.5 inches. The Aldila RP Graphite Shaft ensures that the club handles smoothly with the right amount of flex.
Callaway Women's RAZR Hawk Driver Review
After testing the Callaway RAZR Hawk, Golf Magazine rated the drivers at the top of the pack in all categories. Testers saw as much as 20 extra yards with consistent results. With plenty of forgiveness, a stable feel during swing and a pleasing headshape and look, the RAZR was "among the top-rated models in the test."
Even for women with a moderate swing speed, the RAZR really delivers. There may be drivers out there that get a bit more distance, but the RAZR delivers distance and the ability to shape shots.