The oldest company in the golf industry, FORGAN, began in 1860 in the home of golf, St. Andrews. A long, prestigious history precedes the company that makes golf clubs out of a 14,000 square foot facility in California. FORGAN golf clubs are played and loved around the world and used by both men and women.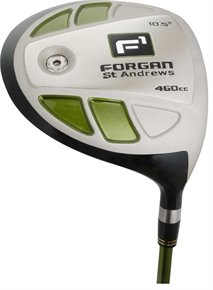 The FORGAN Series 1 Golf Club Titanium 460cc Driver offers "precision weight balanced for ultimate performance." A new design by FORGAN, the Series 1 Driver has a clubhead with multiple features. The all-titanium clubhead comes in the largest size legal, a 460cc head. A larger clubhead means a higher moment of inertia for greater forgiveness and reliability.
A large sweetspot in the center of the club directly behind its powerful center puts explosive power behind the ball, which leads to faster and longer drives. The club is carefully constructed to have a very low center of gravity for greater distance.
FORGAN Series 1 Golf Club Titanium 460cc Driver Review
Overall, the club has a solid, stable feel for better control through the swing and accurate feedback. The club offers a ladies flex shaft for a bit more "give" preferred by the typical lady golfer. Silver and green accents color the club and the included matching headcover.
Reviews and users have praised the FORGAN Series 1 Golf Club Titanium 460cc Driver with enthusiastic comments like "WOW! This thing hits straight as an arrow for me and FAR. Every one of my drives was right on target. I love this Driver!!" For a high quality driver with an oversized head at a very reasonable price, FORGAN Golf offers a versatile driver in the Series 1.