With an extensive list of tour players from the PGA and LPGA who use their clubs, Nike Golf is a top name in the golf industry. With a parent company that is a world leader in sports, it is no wonder that Nike Golf continues to maintain a solid share in the golf industry.
With a full line of tour-tested golf gear, including clubs, balls, tees, and accessories, Nike Golf brings professional technology to both tour players and amateurs. Nike's Machspeed line focuses on helping golfers get more ball speed in order to achieve greater distance.
Nike Machspeed 3 Hybrid Details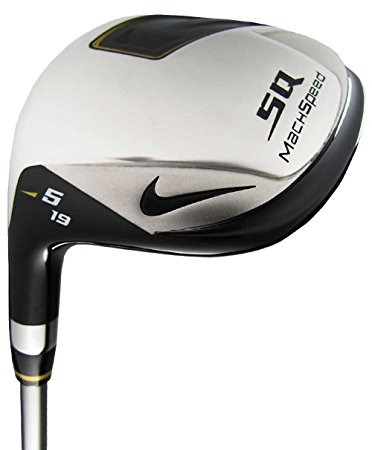 One of only two hybrids Nike Golf currently has available, the Nike Machspeed 3 Hybrid features an aerodynamic square shape with an overall light weight for faster swings with less drag. This graphite-shafted hybrid has received high marks for its stability, speed, and distance.
The Nike Machspeed 3 Hybrid is grounded in what Nike terms "The Oven," which is partly responsible for the club's large open shape. This large, square design is engineered for optimal aerodynamics; air moves quickly and smoothly around the clubhead, reducing the drag that other clubs offer.
Within the square head, weight has been shifted to the perimeter, which delivers greater stability and more forgiveness. In addition, the Machspeed 3 Hybrid has an ultra-thin face and a Split Compression Channel that allows more power to connect with the ball directly for longer shots. Its graphite shaft is lightweight at only 70 grams and is long as 40 inches; Nike engineers have given the club these specifications to improve swing speed even more.
The Nike Machspeed 3 Hybrid has a loft of 21 degrees, a lie of 59.5 degrees, and a D2 swingweight. The Nike Machspeed 3 Hybrid has received a host of perfect five star reviews.
Nike Machspeed 3 Hybrid Review
The hybrid has been most used and reviewed by intermediate players who are looking for a hybrid to even out their current set of golf clubs and help hit shots that their irons miss. Players love the "unbelievable sweet spot" and "very long and very forgiving" shots that the hybrid gets.
This hybrid gets long, straight distance with a soft landing on the green. Even reviewers who have struggled with other hybrids found this one from Nike easy to master. With a combination of quality and versatility, the Machspeed 3 is an excellent first, or second, hybrid to invest in.