TaylorMade Golf may be the golf industry's top name in drivers, but that does not mean that they have excelled at designing other clubs. The company's most popular line, its Burner series, has drivers, irons, fairway woods, and rescue clubs for men and women.
TaylorMade Burner Superfast #3 Fairway Woods Specs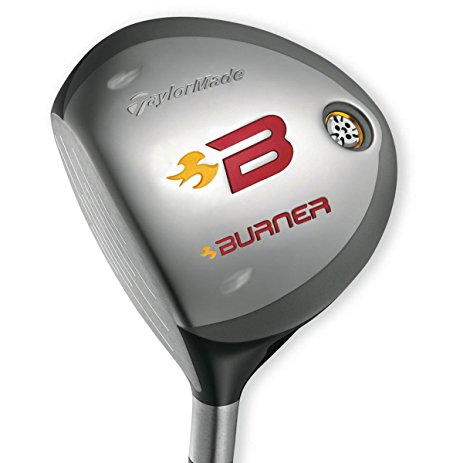 One of TaylorMade's recent releases is its set of Burner SuperFast Fairway Woods, which have upgrades to the original line that allow players to reach even faster club and ball speeds. The TaylorMade Burner Superfast #3 Fairway Woods are designed to replace the traditional 3-irons and are built for greater speed, higher trajectories, and farther drives than irons.
The club's SuperFast name and nickname of "speed demon" stem from new improvements to the woods: a lighter overall weight, larger head, and longer shaft length. The result is an amazingly fast and lightweight club that has been highly reviewed for its ability to achieve distances that rival drivers and an extremely high ball flight.
TaylorMade's line of Burner clubs was first released in 2007, and each year has featured new releases and updates to the line. In 2010, the company released a new set of fairway clubs, including the TaylorMade Burner Superfast #3 Fairway Woods.
The clubhead of the Burner Superfast #3 Fairway Wood is bigger than previous Burner woods; in fact, its 200cc head is the largest steel head on any TaylorMade wood. The larger head has a larger face that offers players more forgiveness and confidence. The headshape itself is newly redesigned with a rounded crown for improve aerodynamics and reduced drag.
TaylorMade engineers have been able to get this fairway wood down to an impressively low 301 gram total weight. They achieve this with the lightweight Matrix Ozik X-Con 4.8 graphite shaft and superlight 30g Winn grip that has superior feel and traction. Also, the clubhead has ultra-thin walls that are .6mm thick, which is as much as 40 percent thinner than competitor clubs.
TaylorMade Burner Superfast #3 Fairway Woods Review
Overall, the TaylorMade Burner Superfast #3 Fairway Woods has received nearly 5 out of 5 stars for distance, playability, and appearance. The club's nickel and black colors and large, fast-looking triangular head are very appealing and inspire confidence on the course.
Reviewers and testers found the clubs easy to use and quick to master; the larger sweetspot made the club particularly easy to hit and very forgiving. The majority of reviews of this club focused on its impressive performance. Players achieved "more controlled shots with greater distance."