Texan Classics creates clubs with high-end technology at an incredibly affordable price. The Texas Classics Hot White Ball Putter 35" can be compared to the Odyssey White Hot Putter, a top-of-the-line putter with a hefty price tag. The Texan Classics putter has a soft insert for improved control and performance. The putter looks stylish on the golf course and has been highly reviewed; it's truly an exceptional bargain.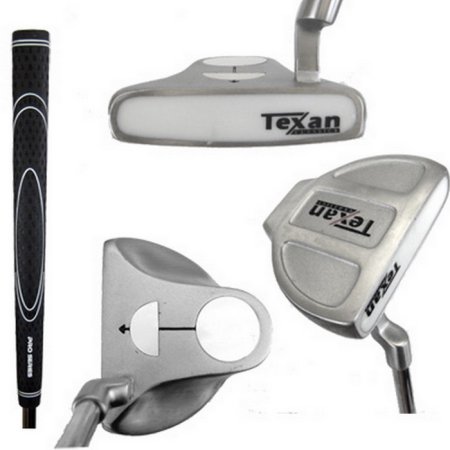 The Texan Classics Hot White Ball Putter 35" is crafted after the award-winning Odyssey White Hot Putters, but at a small fraction of the price. Like the Odyssey putters, the Texan Classics Hot White putters have a specialize insert for a greater feel and control. It's that soft White Polymer Insert that creates a true roll and more accurate alignment.
With a solid steel shaft, the putter has a quality feel, and its Texan Classics all-weather grip adds comfort and protection. Texan Classics offers a one-year manufacturer's warranty.
Texan Classics Hot White Ball Putter 35 Review
With an overall rating of 4.5 stars out of 5 stars, the Texan Classics Hot White Ball Putter 35" provides exceptional quality and performance for an incredible price. Its sharp looks and quality feel give golfers the confidence needed on the course.
The most noted feature was the putter's ability to hit straight shots and experience true roll. One reviewer called it like "hitting pure putts." Golfers can count on this putter's accuracy, which is the most important thing to get out of a putter.
Some reviews found it a bit heavier than other putters, but golfers found that the weight helps eliminate any wobbling for a straighter putt. Most reviewers, both high- and mid-handicappers, saw an immediate game improvement.