Chicago-based Wilson Golf is the golf division of one of the world's leading sports equipment companies. With golf greats like Arnold Palmer among its club users, Wilson is known for creating quality golf products designed for amateur and professional players alike.
Wilson Golf Hope Platinum Ladies Complete Golf Set Specs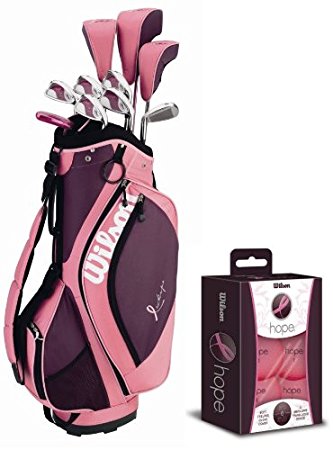 The Wilson Hope Platinum Ladies Complete Golf Set offers female golfers one of the most complete sets of performance-improving golf clubs on the market. With a total of 11 clubs, plus a quality club bag, this Wilson set provides anything a golfer needs to hit the course.
The Wilson Hope Platinum Ladies Complete Golf Set offers a set of clubs that allow lady golfers to effectively work an entire course. The hallmark of the set is a graphite-shafted titanium driver with a huge 460cc head, the largest legal in the game.
Graphite shafts, preferred for their light weight, are also found on the set's wood and hybrid. These two pieces are not found in women's golf sets as often, but women will likely appreciate the performance boosting power and speed of these clubs and the included traditional mallet putter. Rounding out the set are seven stainless steel irons, including a 5-iron, 6-iron, 7-iron, 8-iron, 9-iron, pitching wedge and sand wedge.
A stylish pink, white and black club bag made of strong nylon with reinforced stitching provides long-lasting durability. With a padded shoulder strap, the cart bag is easy to transport and comes with matching headcovers. Wilson's Hope line of women's products demonstrates the brand's commitment to women golfers and breast cancer prevention and cure.
Wilson Golf Hope Platinum Ladies Complete Golf Set Review
For new golfers or experienced golfers looking to upgrade to a nicer set, this Wilson Platinum Ladies Golf Set provides an excellent set of clubs with the kind of variety that allows players to adapt throughout the course. The clubs are quality made, and the graphite shafts of the driver, fairway wood and hybrid is a key benefit of the set.
For women new to using hybrids, the included hybrid club will provide an easy-to-use introduction to this increasingly popular kind of club. The set's clubs even work well for petite golfers. While the included cart bag may not be the best that is out there, it is more than sufficient for most golfers.