Since its inception in, 1922, Voit has been "providing great quality equipment for the whole family to enjoy." The Voit XP Ladies All Graphite Golf Club Set & Stand Bag is an affordable set designed exclusively for women. With two woods, hybrid, seven irons, putter, and stand bag, the Voit XP set includes everything women need to navigate the golf course with ease and style.
Voit XP LADIES ALL GRAPHITE Golf Club Set Details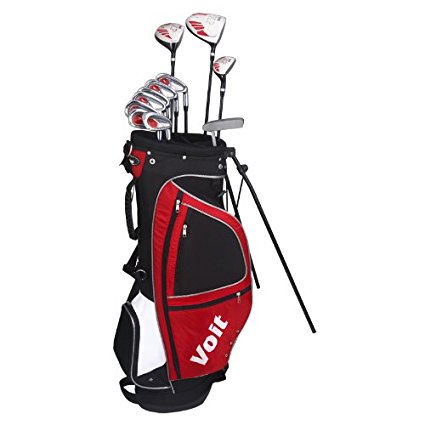 All of the clubs in this set have graphite shafts made with lightweight material that controls feedback, an ideal choice for women. Clubs have oversized heads and large sweetspots for maximum consistency. The stand bag is fully functional with dividers, external and internal pockets, padded shoulder straps, and pop-out legs.
One of the oldest sporting goods manufacturers, Voit, has produced full lines of golf products for men, women, and teens. Their Voit XP LADIES ALL GRAPHITE Golf Club Set & Stand Bag is designed for new and improving lady golfers. Each piece is made with a graphite shaft; many women prefer graphite shafts for its light weight and vibration control.
The set's seven irons, a 5-iron, 6-iron, 7-iron, 8-iron, 9-iron, pitching wedge, and sand wedge, are all oversized with wider soles for a larger hitting surface. The 24 degree hybrid replaces the 3-iron and 4-iron; golfers will find that this hybrid is easier to control and achieves a longer distance.
Two woods, a 15 degree 3 wood and 12 degree driver, have graphite shafts and matching headcovers. The driver's oversized 460cc titanium head provides plenty of hitting area, and the 3 wood also features a large head. Lastly, the set includes a traditional blade-style putter with classic styling.
Voit XP LADIES ALL GRAPHITE Golf Club Set Review
The included pink stand bag has plenty of padding, room of all of the clubs, and pockets for accessories, tees, balls, and umbrella. The double padded straps and light weight material make the bag easy to carry.
New and improving lady golfers will appreciate the versatility and affordability of the Voit XP LADIES ALL GRAPHITE Golf Club Set & Stand Bag. A complete set that includes a driver, wood, irons, hybrid, and putter, the Voit XP set will serve players well throughout the course. Product reviews have rated the set highly and commented on its nice styling, quality graphite shafts, and high forgiveness.