As a golf industry leader, TaylorMade first made a name for itself with its award-winning drivers. The company continues to offer new and improved clubs to golfers of all levels with its irons, hybrids, putters, and full lines. One of TaylorMade's most acclaimed lines is its Burner SuperFast line; Burner SuperFast clubs are designed to be lighter and more aerodynamic for a faster swing and longer distances.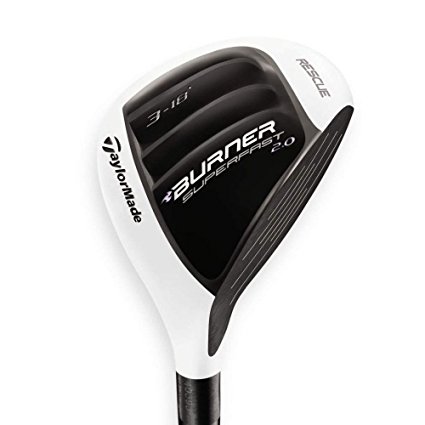 One of the popular clubs in the Burner SuperFast line is the TaylorMade Lady Burner SuperFast 2.0 Rescue Hybrid. Like other Burner SuperFast clubs, this hybrid uses the lightest shaft material and grips. Part of the second generation of Burner SuperFast line, the Lady Burner SuperFast 2.0 Rescue Hybrid features advanced technology for a greater sense of control, consistency, and accuracy.
Rescue hybrids are relatively new in golf. Designed to replace long irons, rescue hybrids are used by golfers who need to achieve long drives or avoid hazards without overshooting the green. With the ability to replace 1-irons through 5-irons, rescue hybrids are a versatile option when consistency and distance are needed.
TaylorMade Lady Burner SuperFast 2.0 Rescue Hybrid Review
The TaylorMade Lady Burner SuperFast 2.0 Rescue Hybrid fills just such a place in the cart bags of lady golfers of any skill level. This hybrid has a shaft made of graphite, which is typically the preferred material for women golfers for its light weight and superior vibration control.
The hybrid's longer shaft and lighter overall weight enable golfers to swing the club faster and with more power, resulting in longer and faster drives. With a lower center of gravity, the hybrid promotes a distance enhancing swing. The club has a unique look: a black center with white edging, which is designed to reduce glare and allow a more accurate line-up with the ball.
Women should find the TaylorMade Lady Burner SuperFast 2.0 Rescue Hybrid a welcome addition to their club set, especially for golfers who are not able to achieve the distance or consistency with their long irons. The hybrid looks sharp, but its looks are also functional on the course. While the longer shaft may take a bit of getting used to, golfers will find that they can achieve greater power and speed with practice.